A Teen Mom Talks About What's Missing From Sex Education
Link to the story to Share: http://bit.ly/24GmIi5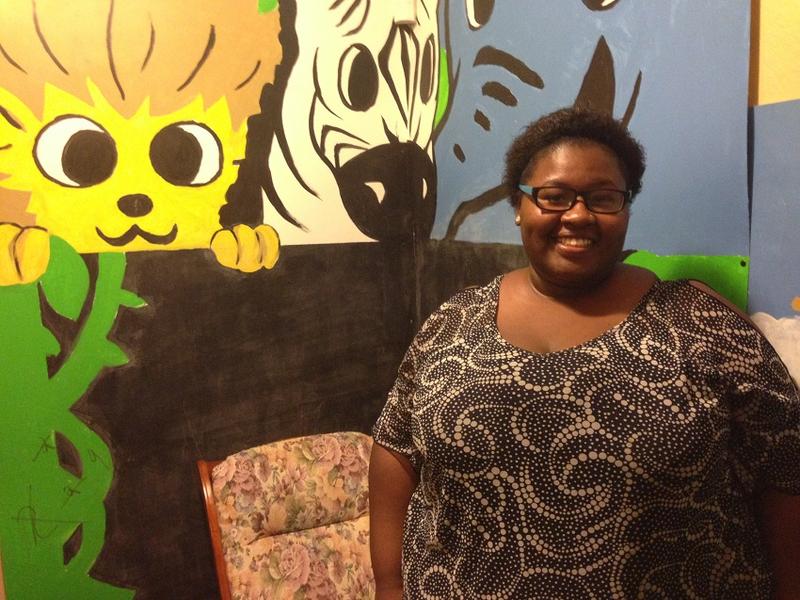 Shanterrica Piper got her GED thanks to a program at Alley's House, a Dallas nonprofit.
Courtney Collins / KERA News
Stuart Spitzer, a Republican from Kaufman, kicked up a controversy about sex education during a recent marathon budget debate in the Texas House. He succeeded in moving $3 million to abstinence education from programs aimed at preventing sexually transmitted diseases.
A 19-year-old woman who's three years into motherhood explains how this plays out in real life.
Shanterrica Piper was a freshman at Duncanville High School when she got pregnant. By age 15, she had a baby girl.
She got the basics from sex ed in eighth grade. Would more abstinence education have made a difference? What about easier access to birth control?
Shanterrica says all of that would have helped — some. What was missing was something very different.
In one family, 'a cycle' of teen pregnancies
"Classes on self-esteem and self-love and stuff like that," Shanterrica said. "At the end of the day, if you taught children or teenagers, 'if I love myself, then I'd think differently,' that would be way more successful."
Teen pregnancy is a fact of life for her family. Her mom had her at 16. Her grandma had her mom at 15. Her sister was 15 when she had a baby — three weeks after Shanterrica gave birth.
"My family calls it as a cycle," Shanterrica says. "We know that it is happening but instead of us going about it the right way and talking like 'well, I did it so I want you to do better,' we kind of ignore it until it is too late."
Shanterrica says her mom worried getting her contraception would have been giving her permission to become sexually active. So they didn't really talk about it.
Before she got pregnant, she had no idea so many different types of birth control existed. She says learning all that in school would have helped her bring it up at home.
'There wasn't a thought process. That's the problem.'
The father of her child is 10 years older than she is, a friend from the neighborhood. She says they only had sex once.
"Her father is almost a stranger," Shanterrica says. "We had finished talking and stopped talking way before I even knew that I was pregnant."
They didn't use a condom. She knew better.
"There wasn't a thought process. That's the problem. When I think about what happened, I could have got something worse," she admits.
Like HIV or another sexually transmitted disease. Even at 14, she knew that. But she was angry and insecure. She didn't feel valuable. She hadn't seen her dad since she was 5.
"You go around looking for someone to fill the void of him not being around," she says. "And that happened a lot."
Shanterrica is 19 now. She got her GED thanks to a program at Alley's House, a Dallas nonprofit. She works at Macy's and is taking classes at El Centro College. She's studying to be a nurse.
'I didn't love myself enough'
And she's a mom to 3-year-old Arhyanna. Shanterrica wants her daughter to have a different life.
Even now she encourages Arhyanna to speak up when her feelings are hurt. She wants to break her family's cycle of teen pregnancy.
Shanterrica says she wouldn't change anything about how her life turned out. But she wishes she could go back in time and change what her 14-year-old self saw when she looked in the mirror.
"I didn't love myself enough to know that me doing this could possibly change the whole way my life would be," Shanterrica says.
And she believes not much else matters if schools can't teach that.
+++++++++++++++++++++++++++++++++++++++++++++++++++++++++++++++++
How Girls Inc. can help!
Girls Getting Ready 4 Life! Programs
Girls Inc. of Metropolitan Dallas offers four  programs for girl's ages 12-18. These programs are part of the successful Girl Inc. Girls Getting Ready 4 Life! (GGR4L!) program.
The GGR4L! program uses multilevel interventions in order to meet the needs of the whole girl. Through our alliance with the North Texas Alliance to Reduce Teen Pregnancy (NTARuPT) and our use of the Girls Inc. national programming to develop comprehensive workshops we can meet the needs of girls like Shanterrica Piper.
Girls Inc. takes a comprehensive approach to equip girls with medically accurate knowledge of reproductive health and the interpersonal skills and tools for pregnancy and STI prevention. In addition, Girls Inc. offers workshops that address self-confidence, economic literacy and job readiness through a series of workshops.
Workshops include:
Girls Take Another Look
This workshop is designed for girls ages 12-14, to explore the variety of media available to them. They are able to practice deconstructing hidden media messages, question the media's focus on appearance and redefine beauty.  The workshop also helps girls learn how to influence the media by communicating their opinions to those in power.
Equal Earners, Savvy Spenders
This workshop is designed for girls ages 12-14 and deepens a girl's knowledge and appreciation for economic and financial topics. Some of the topics include: risk versus return on investments, consumer tips, credit card use, labor laws, economic equity for women and girls, work-life balance and global economics.
Girls Inc. Job Ready
This workshop is designed to help girls ages 14-18 to look at college and career readiness. The girls will look at a variety of college options and jobs for their talents and interests.
For more information about the GGR4L! program contact Anesha Alexander at 214-654-4544 or email her at aalexander@girlsincdallas.org
To donate to the program please contact our Chief Development Officer, Zahra Coburn Perez at 214-654-4559 or zperez@girlsincdallas.org