A new generation of innovators is taking its place in Dallas-Fort Worth lore, creating the next wave of great companies, services, and ideas.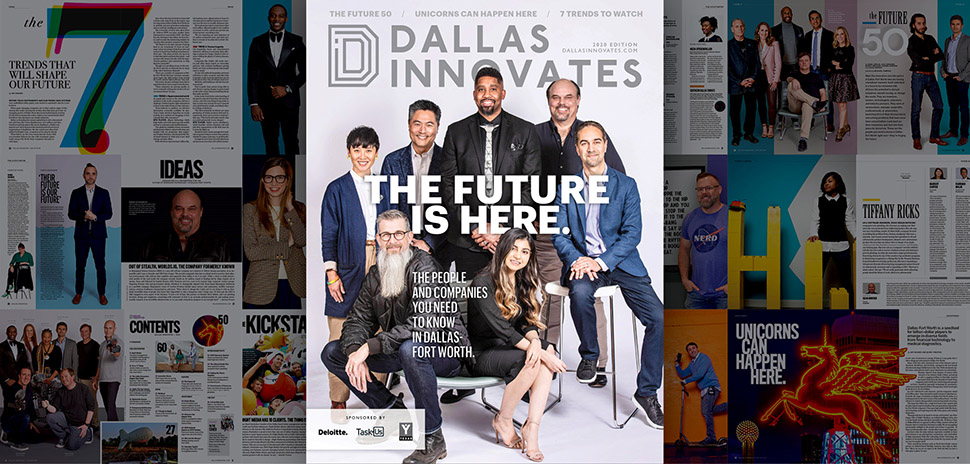 Front row from left: Joshua King and Tatiana Flores. Back Row: Tatum Lau, Ed Chao, Craig Lewis, Dave Copps, and Arjun Dugal. [Photo: Michael Samples]BY QUINCY PRESTON • JAN 6, 2020
We begin the new decade with a toast to our newest magazine, Dallas Innovates 2020. This year, the cover of our third annual print publication declares "The Future is Here." It's a moment for innovation in Dallas-Fort Worth, one that we've been working toward for a long time. In our pages, we explore the people and companies you need to know in Dallas-Fort Worth. You'll find The Future 50—disruptors and game-changers who are making a difference in their respective fields. From first-time startups to innovation icons, we recognize 50 North Texans who are shaping the future through their ideas, technologies, research, and more. You'll also find seven trends that will shape our future, learn how unicorns can happen here, and more. It's a great time to be in DFW. We'd also like to thank the magazine's sponsors—Deloitte, TaskUs, and YTexas—as well as our advertisers for making the edition possible.
The Dallas Innovates team – Click here for the full article